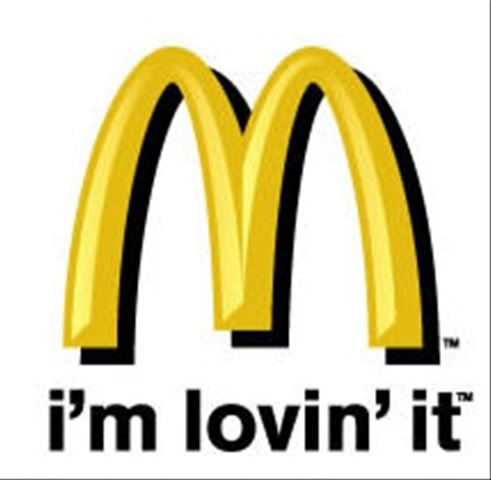 *sheepishly* I'm

such

a glutton can.
I have been feasting on MacDonald's breakfast for the past two mornings. I can't help it!! It's toOOOoooOOoooo devour-licious.
*YUM*
The Love of my tastebuds :
SAUSAGE MCMUFFIN with EGG!!!
I usally eat it dipped with McDonald's curry sauce. 2 packets to be exact.(alright i am weird.)
It's
D-E-L-I-C-I-O-U-S
. Handsdown.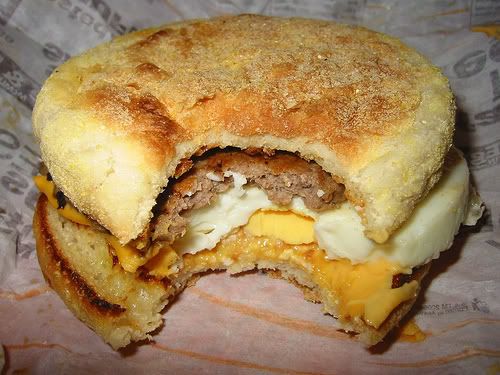 For the love of SME, I looked up on the history of this heavenly breakfast.
The Egg McMuffin is the signature breakfast sandwich sold by the fast-food restaurant chain McDonald's. The McMuffin is also a family of breakfast sandwiches in various sizes and configurations. In the US and Canada the standard McMuffin consists of a slice of Canadian bacon, a grill-cooked egg, and a slice of cheese on an English muffin.
-from wikipedia
Product variants :
In Canada
-(Sausage McMuffin with Egg)
A sausage patty is substituted for the Canadian bacon.

In Aussie
-(Massive McMuffin)
Ketchup, bacon, egg, American cheese and two sausage patties
In Singapore
-(Sausage McMuffin™ with Egg)
Sumptuous chicken sausage and an egg done sunny side-up served between perfectly toasted muffins.


Nutritional information
Energy (kcal) : 481
Cholesterol (mg) : 290
Total Fat (g) : 20
Sodium (mg) : 1147
Saturated Fat (g) : 10
Dietary Fibre (g) : 1
OMG. JUST THE BURGER AND ITS 481 calories!!!
p/s: It's a good thing I don't usually have it in a meal unless I'm super hungry. Imagine more calories added with the hashbrown and hot milo.
FAT FAT FAT. (everyone says I am putting on alot of weight.)
But I love it leh... HOW ah?
So,
I ADDED THIS TO MY WISHLIST :
.
.
.
.
.
.
.
.
.
.
.
.
.
.
.
TAAAAAAAA DAHHHHH~!!! A SAUSAGE EGG MUFFIN TOASTER!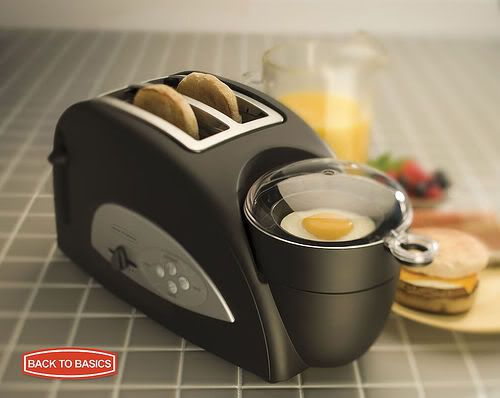 CHIO RIGHT?!!!
I WANT THIS FOR
CHRIS
TMAS
LEH.
p/p/s: Oh, I like the
FredFlare
watch Sharene gave my sister. Sis said it's too girly for her so yup, it's nicely on my wrist now.
You can never go wrong with stuffs from
fredflare.com
. Absolute cuteness.
Enjoy the weekends eh. =)